Bravecto helps you spend more quality time with your dog and less effort dealing with fleas and ticks. Fast acting, and with an extraordinarily long-lasting 3 month hassle free period between treatments, you and your dog can enjoy extended protection.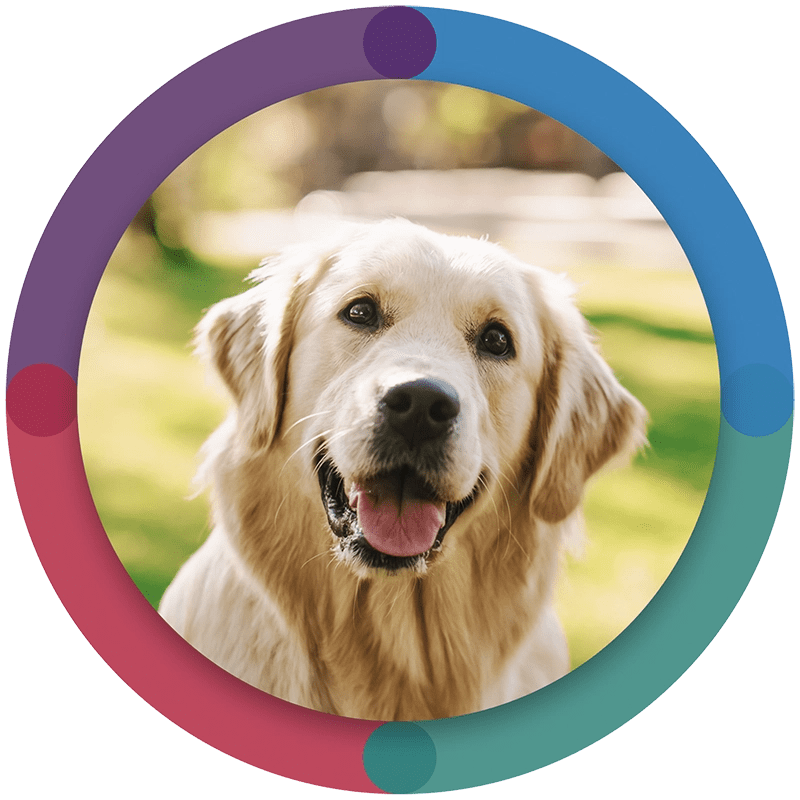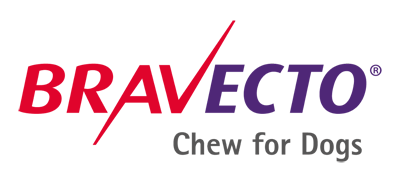 Treat every 3 months for flea and tick protection
Also provides treatment of ear mites, demodex mites and sarcoptes mites
Indirectly reduces tapeworm transmission
Easy to give tasty chew that dogs love
Safe for use in breeding, pregnant and lactating dogs
Ideal for dogs that love to swim
Size Matters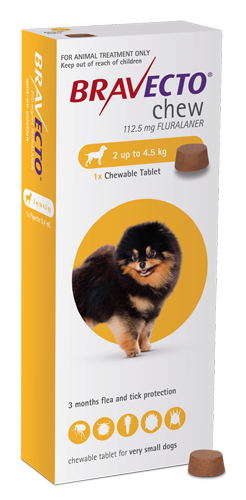 Very Small 2 kg – 4.5 kg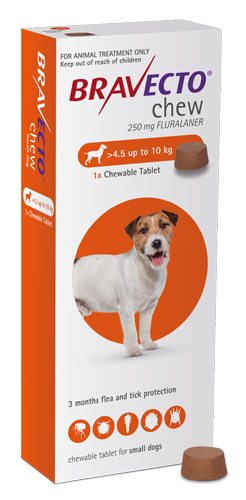 Small >4.5 up to 10 kg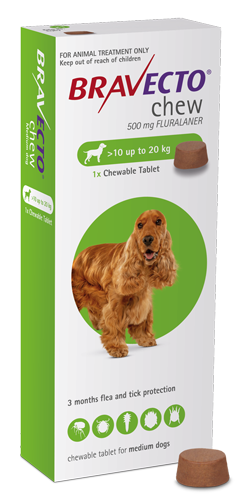 Medium >10 kg up to 20 kg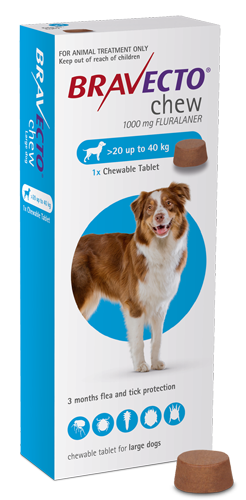 Large >20 kg up to 40 kg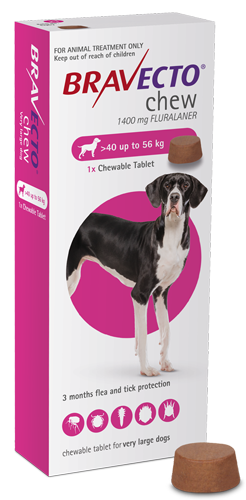 Very Large >40 kg up to 56 kg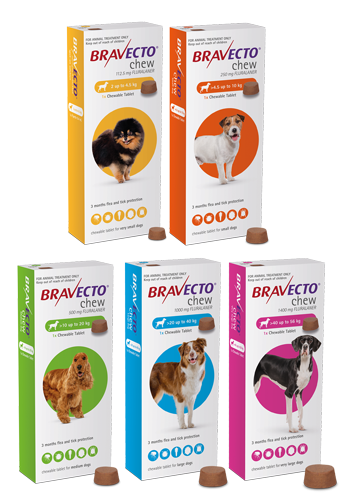 Bravecto Chew for Dogs range
Bravecto Chew for Dogs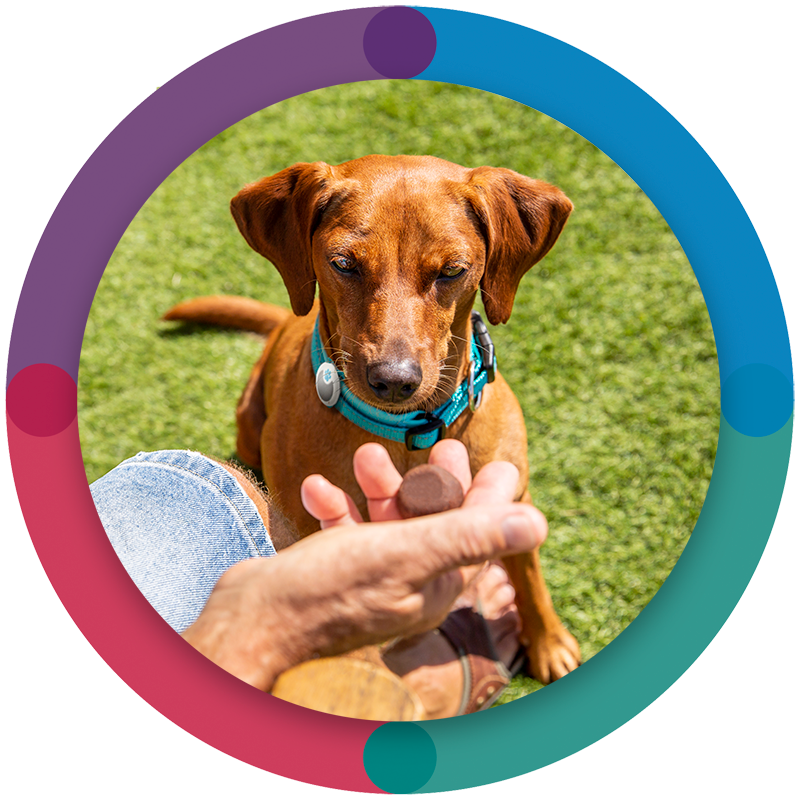 A single tasty chew provides 3 months protection against fleas and ticks.
Is effective for the treatment of ear mite.
Give your dog nose-to-toes protection wherever they go with one easy to give chew that dogs love.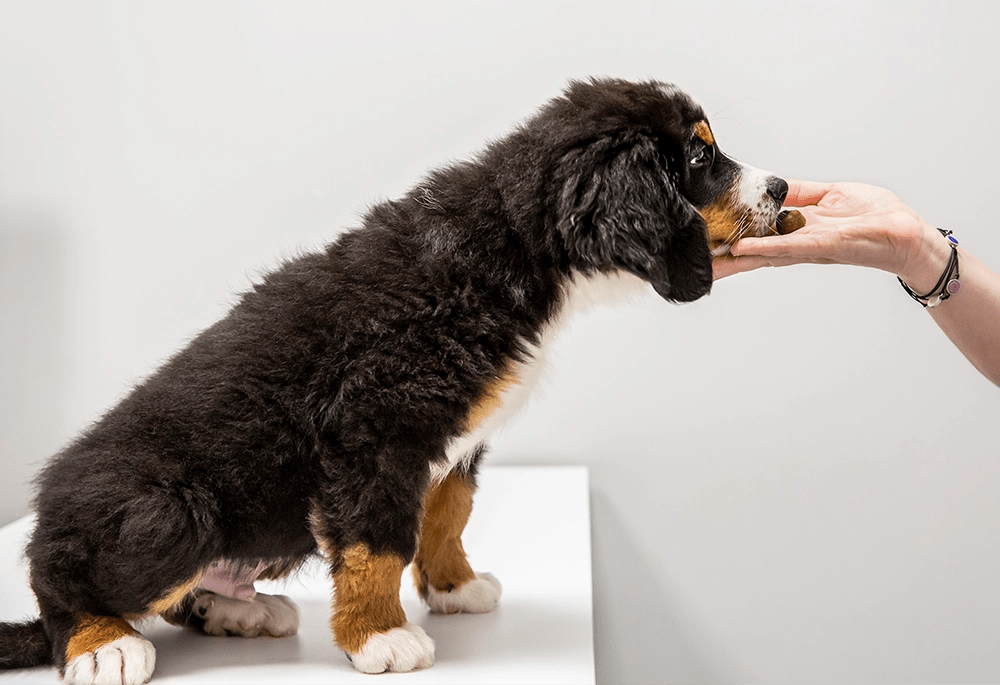 HOW TO USE BRAVECTO CHEW FOR DOGS
Giving Bravecto Chew for Dogs is easy. Simply give your dog a tasty chew at, or around, mealtime and let them chomp their way to long-lasting flea and tick protection.
PEACE OF MIND
Bravecto Chew can be used on puppies from 8 weeks of age, weighing at least 2 kg
Enjoy peace of mind knowing that once your puppy is old enough to enjoy an active outdoor lifestyle, they'll be protected from the risks of fleas and ticks.
Over 340 million doses dispensed worldwide.
Bravecto is proud to deliver a well-tested solution for dogs and cats worldwide against ticks and fleas. Our products have undergone rigorous regulatory approval processes and are sold with confidence in over 110 countries.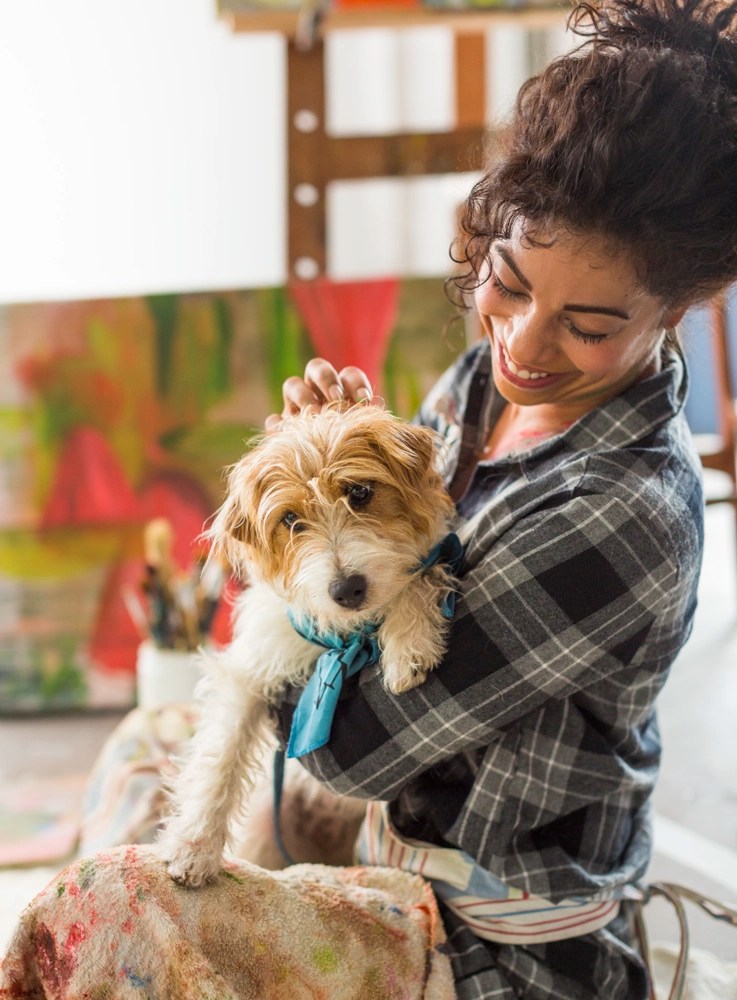 FREQUENTLY ASKED QUESTIONS
Bravecto Chew is available from veterinarians and leading pet retailers.
Bravecto Chew provides long-lasting protection against fleas and ticks on dogs with just one dose*
For flea and tick protection give Bravecto Chew every 3 months. That is only 4 times a year!
After a single treatment Bravecto Chew is effective against ear mite, demodex mite and sarcoptic mange. Bravecto chew indirectly reduces tapeworm transmission from infected fleas to susceptible dogs by effective flea control.
Bravecto is a light to dark brown chew with a smooth or slightly rough surface and circular shape. Some marbling, speckles or both may be visible.
There is no reason to stop touching your dog when treating with Bravecto Chew.
Yes, Bravecto Chew may be used all year-round – that is only four doses a yes! Fleas can be a year-round problem and can exist both indoors and outdoors. When attached, cattle ticks can cause skin irritation to dogs. Warm, moist conditions are favourable for the cattle tick reproductive cycle, and in the warmer parts of NZ two generations can be produced annually.
It is always best to discuss all your dog's treatments with your veterinarian as they are your pet's health care expert.
Bravecto Chews are flavoured with a hydrolysed pork protein so they are suitable for most dogs. Check with your veterinarian before use if your dog has a food allergy.
Bravecto Chew is available in single dose packs for dogs ranging from 2 kg to 56 kg. One dose of Bravecto Chew provides 3 months protection against fleas and cattle ticks.
Bravecto Chew may be used in puppies from 8 weeks of age and weighing at least ≥ 2 kg body weight. Puppies should be weighed regularly. Fast growing puppies that outgrow the initial weight band during the treatment interval may be retreated at 2-monthly intervals.
For dogs above 56 kg body weight, use a combination of two chews that most closely matches the body weight.
The active ingredient, fluralaner is absorbed into the dog's blood and tissue fluids. Fleas and ticks are killed when they feed from the Bravecto-treated pet, as they take up a blood meal containing fluralaner.
No, Bravecto Chew is not approved for use in cats. Bravecto Spot-on for Cats and Bravecto Plus are registered for cats.
Bathing, shampooing or swimming should not affect how well Bravecto Chew works. Coat length and grooming or brushing also have no impact on its efficacy.
Bravecto Chew can be given to your dog any time of the day; however it is recommended that you administer the chew at or around time of feeding.
Yes. Directly after treatment, Bravecto Chew kills 99% of fleas on the dog within 8 hours and 100% within 12 hours.
Yes. Bravecto kills newly emerged fleas before they lay eggs and breaks the flea life cycle.
Yes. Bravecto Chew may be used in breeding, pregnant and lactating dogs.
It is not necessary to use additional insecticides to control flea stages in the environment. In most cases juvenile life stages (eggs, larvae, pupae) present in the environment will mature to adult fleas over approximately 3 months. As they mature, the new adult fleas are killed before they lay eggs when they feed from a treated pet. Therefore, with just one dose of Bravecto Chew, all flea life stages in the home environment should be eliminated.

Recommended by vets,
and pets
ACVM No's: A011019 Bravecto Chew, A011261 Bravecto Spot-on, A011446 Bravecto Plus.
Coming Soon: A011993 BRAVECTO QUANTUM – AVAILABLE ONLY UNDER VETERINARY AUTHORISATION.