Monthly treatments can be a hassle, thankfully Bravecto Plus lasts three times as long. Our spot-on treatment will guard your cat against fleas and ticks, and treat intestinal worms and ear mites.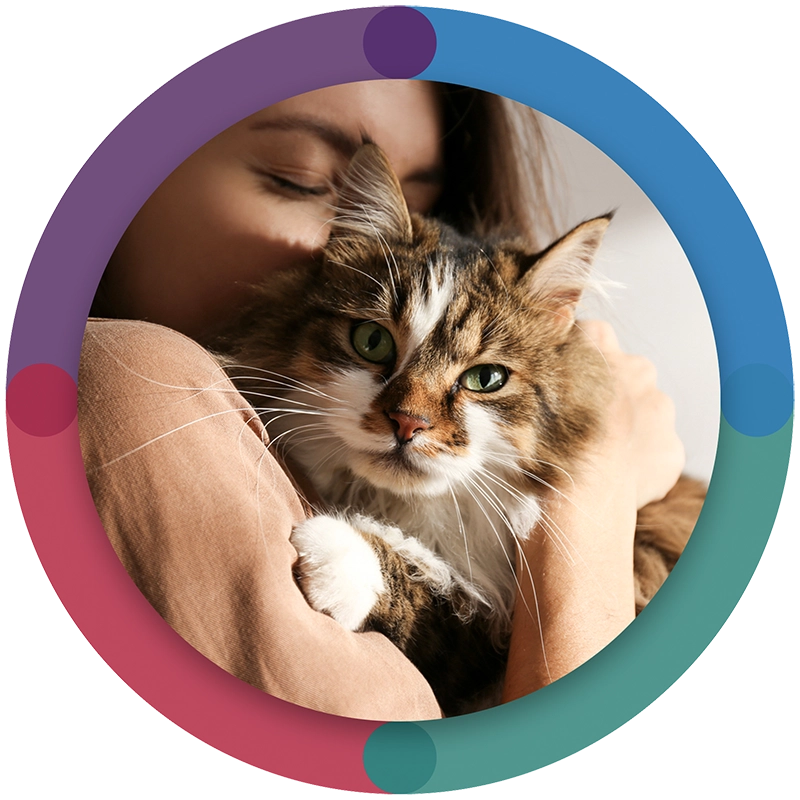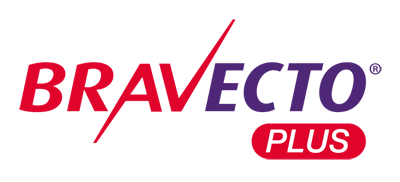 Treat every 3 months for flea, tick and worm protection
Also treats ear mites, roundworm and lungworm
Can be used as part of treatment strategy for control of flea allergy dermatitis (FAD)
Simple and convenient TWIST-N-USE spot-on application
Size Matters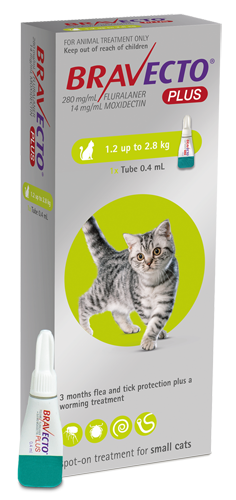 Small 1.2 kg up to 2.8 kg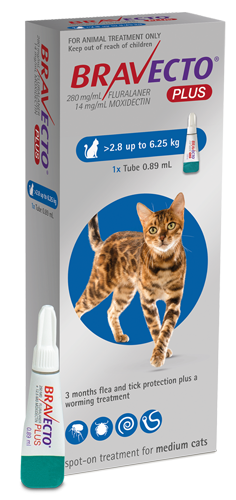 Medium >2.8 up to 6.5 kg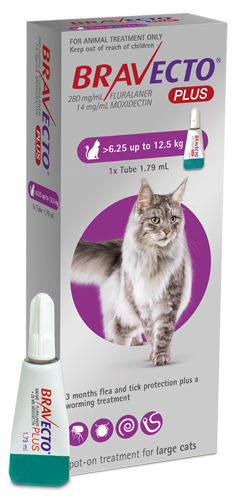 >6.25 up to 12.5 kg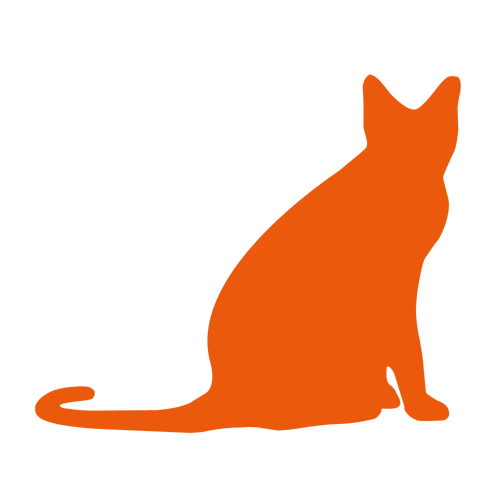 Got questions?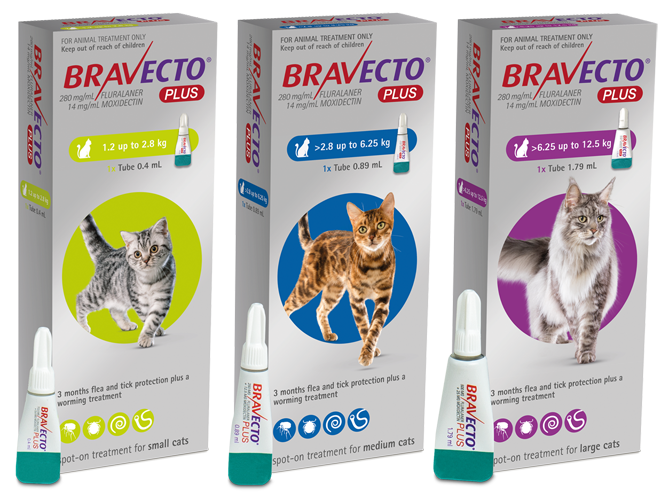 Confused about weight – talk to your vet today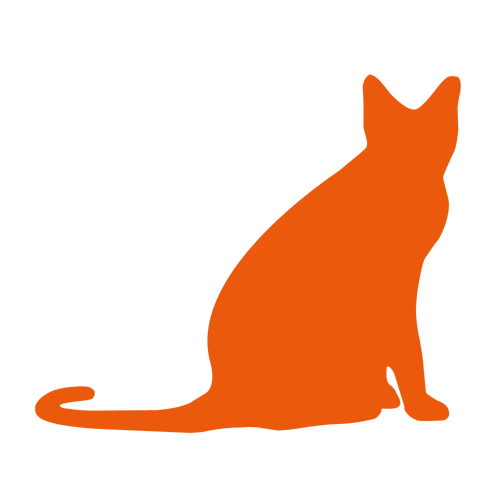 Got questions?
Bravecto Plus For Cats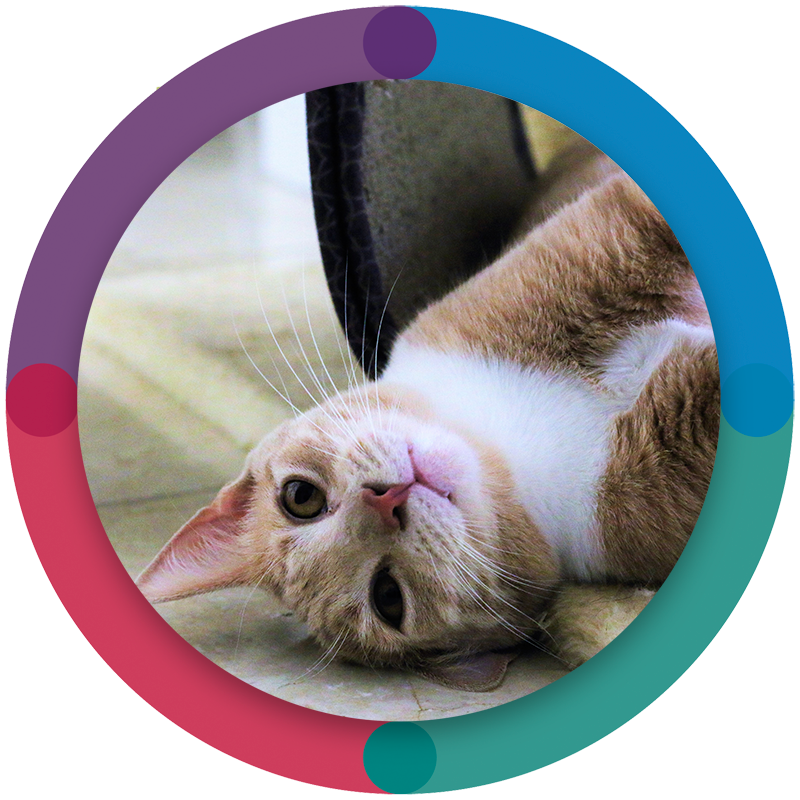 A 3 month treatment to protect your cat against fleas and ticks plus a worm treatment.
Long lasting, all-in-one* parasite protection for cats, with fewer doses than monthly alternatives.
Only 4 treatments a year.
Application is quick and easy with our TWIST´N´USE tube.
* All-in-one treatment for fleas, ticks, roundworm, lungworm and ear mites.


How to apply Bravecto Plus
Watch this video and learn how to correctly apply Bravecto Plus.
How to use Bravecto PLus for Cats
PEACE OF MIND
Bravecto Plus can be used in kittens over 9 weeks of age, weighing at least 1.2 kg.
Once your kitten is old enough to enjoy an active lifestyle, you'll have peace of mind knowing that they are protected from the risks of fleas, ticks and treated for intestinal worms* and ear mites.
* Applies to roundworm and lungworm
Over 340 million doses dispensed worldwide
Bravecto is proud to deliver a well-tested solution for dogs and cats worldwide against ticks and fleas. Our products have undergone rigorous regulatory approval processes and are sold with confidence in over 110 countries.
FREQUENTLY ASKED QUESTIONS
Bravecto Plus is available from veterinarians and leading pet retailers.
Bravecto Plus provides cats with long-lasting protection against fleas and ticks, with just one dose.*
For flea and tick protection administer Bravecto Plus every 3 months.
Bravecto Plus also treats ear mites, roundworm and lungworm and can be used as part of treatment strategy for control of flea allergy dermatitis.
*Refer to product label for full claim details.
Bravecto Plus is available in single dose packs, across three weight bands ranging from 1.2 – 12.5 kg. For cats above 12.5 kg body weight, use a combination of two tubes that most closely matches the body weight.
Bravecto Plus for Cats can be administered to cats as early as 9 weeks of age. Cats should weigh at least 1.2 kg.
Bravecto Plus comes in a clever TWIST´N´USE tube with a non-removable cap, it is simple and convenient to apply:

It is important to apply Bravecto Plus to the skin on the back of the head, as per the diagram. Do not use directly on any skin lesions. As cats are fastidious groomers, applying to this location is important to prevent your cat from licking the wet application site. To make application easier, have your cat standing during application. It may be helpful to have someone else gently hold your cat or have your cat lying on its stomach while you apply Bravecto Plus. If your cat is larger than 6.25 kg we recommend applying the product in two spots. If multiple cats are treated and may mutually groom, it is recommended that cats are separated while product dries.
No. The cap is not designed or intended to be removed. Twist the cap one full turn until you feel the seal break and then invert the pipette to express the product.
No. Opening the cap breaks an internal seal that cannot be closed by turning the cap back. Once the pipette is opened, the pet should be treated as soon as possible. Bravecto Plus will begin to evaporate after opening.
The active ingredient, fluralaner is absorbed into the cats blood and tissue fluids. Fleas and ticks are killed when they feed from the Bravecto-treated pet, as they take up a blood meal containing fluralaner. Bravecto Plus provides immediate and persistent tick and flea killing activity for 3 months.
Yes – lungworm can reside in the lungs of infected cats. Eggs develop to larvae and migrate up the windpipe and are swallowed to be excreted in the faeces. Reinfection of the cat occurs by the ingestion of the intermediate hosts, snails and slugs. Cats may also become infected by the ingestion of mice and birds. Some infected cats will not show any signs and in moderate infections it may induce coughing and anorexia. Severe infections can be associated with coughing, breathing difficulties and in some cases may be fatal.
Yes – Capillaria inhabit the upper airways of infected cats. Eggs migrate to the mucosal surface therefore when the cat coughs, swallows or excretes the eggs in the faeces, reinfection may occur either directly, or via ingestion. Symptoms are seldom severe but coughing and wheezing may occur.
Roundworms, or nematodes, are important internal parasites of cats. They are common, particularly in young cats and kittens, where clinical signs are most likely. Long and cylindrically shaped, the common roundworm species are found in the gastrointestinal or respiratory tracts and kittens and cats can show a pot-bellied appearance, failure to thrive, intermittent diarrhoea, vomiting and coughing. Some species of roundworms can also infect people, so treatment is important, particularly where cats are in contact with children and pregnant women.
Ear mites infest the external ear, causing inflammation of the ear canal. It is commonly seen in cats. The infested cat may shake its head and scratch its ear(s). The external ear may be inflamed and the ear drum can tear. Just one dose of Bravecto Plus clears ear mite infestations within 28 days. All cats that have contact with infested cats should also be treated. If mite infestation reoccurs, consult with a veterinarian.
Yes, Bravecto Plus may be used all year-round – that is just 4 doses per year for fleas and ticks! Fleas can be a year-round problem and can exist both indoors and outdoors. When attached, cattle ticks can cause skin irritation to dogs. Warm, moist conditions are favourable for the cattle tick reproductive cycle, and in the warmer parts of NZ two generations can be produced annually.
The safety of Bravecto Plus has not been established during breeding, pregnancy or lactation.

Recommended by vets,
and pets
ACVM No's: A011019 Bravecto Chew, A011261 Bravecto Spot-on, A011446 Bravecto Plus.
Coming Soon: A011993 BRAVECTO QUANTUM – AVAILABLE ONLY UNDER VETERINARY AUTHORISATION.